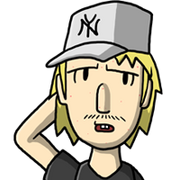 Tucker is a recurring character in Vinny's streams who gained particular prominence during Tomodachi Life: Survivor Edition.
He is based on a certain portion of Vinesauce viewers who revere Vinny to ridiculous levels, who based on Tucker's Tomodachi age seem to be teenagers. Captain Southbird once called them "youthful idiots" in a YouTube comment, which supports this theory. [1]
Trivia
References
Ad blocker interference detected!
Wikia is a free-to-use site that makes money from advertising. We have a modified experience for viewers using ad blockers

Wikia is not accessible if you've made further modifications. Remove the custom ad blocker rule(s) and the page will load as expected.