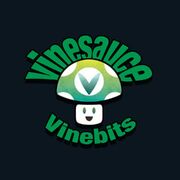 VinesauceVinebits is a now-defunct secondary channel to the main Vinesauce YouTube channel. It was established August 11, 2012 [1] to host short clips that the streamers liked but ultimately didn't make the cut into highlight videos, as this was over two years before any Fullsauce channels were created.
Content
The channel saw 20 uploads from its creation up to October 14, 2014, when a final video from Joel's Alien: Isolation stream was uploaded. [2] Because this date coincides with the creation of Vinny's Fullsauce channel being created November 6, 2014, [3] it is likely that the Vinesauce team deemed this channel unnecessary. As of March 6, 2017, it has kept over 14,000 subscribers and a grand total of 7 discussion posts. [4]
Trivia
The two videos with the highest views both feature Joel, and they are:
References
Ad blocker interference detected!
Wikia is a free-to-use site that makes money from advertising. We have a modified experience for viewers using ad blockers

Wikia is not accessible if you've made further modifications. Remove the custom ad blocker rule(s) and the page will load as expected.